PRINCE2 Agile® is the world's most complete agile project management solution, combining the flexibility and responsiveness of agile with the clearly defined framework of PRINCE2®.
PRINCE2 Agile is an extension module tailored for organizations and individuals already benefiting from PRINCE2. It provides further guidance on how to apply agile methods to the world's most recognized project management method.
PRINCE2 Agile Foundation Course Objectives
Understand the basic concepts of common agile ways of working
Understand the purpose and context for combining PRINCE2 and the agile way of working
Be able to fix and flex the six aspects of a project in an agile context
Be able to apply or tailor the PRINCE2 principles, themes, processes and management products to a project in an agile context
To learn through the use of theory and practical exercises
To prepare delegates for the PRINCE2 Agile Foundation exam
PRINCE2 Agile Foundation Course Description
A 2 day course, after which thes delegate can sit the official AXELOS® PRINCE2 Agile Foundation online certification exam.
The course provides a balanced mix of theory and practice.
It is expected from the participants that they spend ca. 10-20 hours on pre-course preparation according to our instructions.
The course can be delivered in English, German, Czech or Slovak. Our training materials are available in English. The online exam can be taken in English.
You will obtain preliminary exam results right after having sat the online exam.
Each of our PRINCE2 Agile Foundation course delegates receives:
Our full colour PRINCE2 Agile Foundation Event manual with exercises & both official AXELOS sample papers
Access for a 1 year to our unique PRINCE2 Agile Foundation e-learning environment with video recordings of all lectures and the presentation itself
Detailed description of the certification
Exam syllabus and design
Both official AXELOS PRINCE2 Agile sample exam papers including detailed rationales of correct and incorrect answers
Detailed PRINCE2 process model
Access to the latest version of the Scrum Guide
official electronic publication "PRINCE2 Agile manual"
Templates of all 26 main PRINCE2 management products in English or Czech (according to your choice), which he/ she can use during projects
Access to the official portal of the examination institute PeopleCert
genuine electronic certificate from AXELOS/ PeopleCert in case passing the certification exam
On demand e-mail support from the moment you order the course until its completion.
lunches and refreshments during the physical/ presence course.
pdf PRINCE2 Précis publication with key PRINCE2 terms
e-learning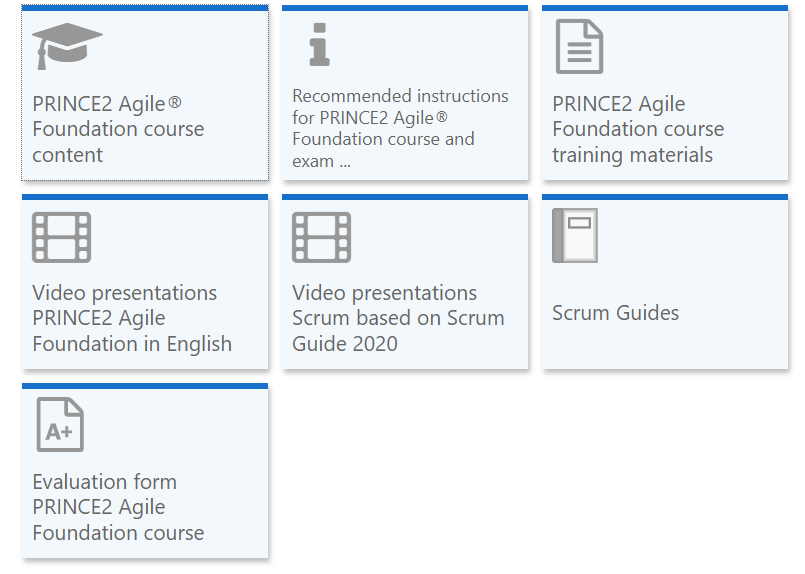 Training Venues:
Our Bratislava and Prague public courses are held at our modern training centers with easy transport accessibility, public transport links and barrier-free access.  We offer our students free parking, wired internet access, coffee breaks and lunches at a local restaurant included in the course fee. 
For more information about our trainig venues please click here.
Open, semi-open & in-company courses
We run our courses as open, semi-open and in-company. If you are interested in a tailor-made in-company training offer, please contact us.
Prices
Our public PRINCE2 Agile Foundation courses cost 410 € per person + 540 € per person & attempt AXELOS/ PeopleCert online exam.
For public courses, you can choose between virtual/ online and in-person participation. Surcharge for the in-person form is 50 € per person. It includes snacks, lunches, parking and wi-fi connection for the duration of the course.
If you require in-house training, please contact us giving the desired course location, number of attendees and a date range.
Best Price Guarantee:
If you obtain a better price offer for an accredited PRINCE2 Agile course in the same location, time period, delivered by a comparably experienced PRINCE2 Agile Approved Trainer, with guarantees comparable to ours, we will beat it - just present it to us.
Our Quality Guarantee:
If you adhere to all trainer's instructions, participate in the whole course and in spite of that do not pass the PRINCE2 Agile Foundation exam, you can repeat the course with us once more for free. You pay just the re-exam fee.
Our Course Date Guarantee
We value both the time and money of our customers. We therefore guarantee you that if you make a binding course booking with us and pay your participant fee on time, we will not cancel the given training due to lack of participants or any other subjective reasons.
Our Know-how Retention Guarantee
In case your employee, who took PRINCE2 Agile training with us paid by you, terminates employment with your company you can take advantage of our know-how retention guarantee. It means that a replacement employee nominated by you can attend the same course for free. You will pay only fee for his lunches & refreshments during the course and cover the certification exam fee (if she/he is to take a certification exam).
Just provide us with a copy of the employment contract termination notice of the employee who left.
Your replacement employee can repeat the course within 1 year from the original course. The course date has to be agreed at least 15 calendar days before the start of the chosen course. We assume the replacement employee will use study materials left behind by the original attendee. If your company does not have the study materials anymore we will provide you with a new copy at cost.
In case the course date which you choose would be fully occupied by participants who attend the course for the first time and not as a part of our know-how retention guarantee, we will contact your employee and offer him/her a new course date.
Training Course Calendar
The schedule of all our public training courses is available under Public Training Courses Calendar & Prices.
How to book a course?
Please fill in our order form or contact us.